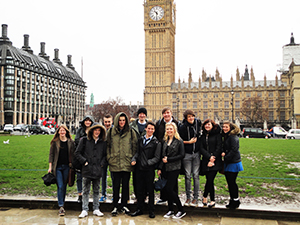 A group of Government and Politics students experienced a fascinating, but sadly damp, visit to London for a tour of the Houses of Parliament and the London School of Economics.
The y12 and y13 students got up very early for their trip to London and  arrived at Westminster by mid morning. The showers didn't dampen their spirits. After going through the security section at the gates of the Houses of Parliament, students assembled in the Great Hall where world leaders such as Nelson Mandela have given speeches. They were met by a Clerk of the House of Lords who gave the group a fascinating tour of the Palace of Westminster.
The group had the opportunity to see, amongst other places, the Queen's robing room where she prepares for the state opening of Parliament each year and the actual House of Lords chamber itself.
After the tour, students were met by Ronnie Campbell, the Member of Parliament for Blyth Valley, for a question and answer session about the Houses of Parliament and the work of MPs. Coincidentally, two students in the group had recently completed some very successful work experience placements at Mr Campbell's constituency office in Blyth.
The group left the Houses of Parliament and walked the mile or so to the London School of Economics. The route took the students past Downing Street, the Supreme Court, Whitehall and Trafalgar Square.
The students had a short tour of the London School of Economics before attending an excellent lecture and discussion about the UK constitution. The session was chaired by Professor Martin Loughlin and held in one of the 'moot' courtrooms in the new LSE building in central London.
After meeting students from the LSE, the group headed back to Kings Cross Station for the journey home.
All staff and students agreed that the day had been a great success. The material covered on the day will also be of invaluable for their studies and forthcoming exams in Government and Politics.