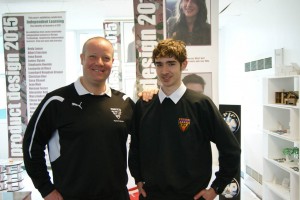 A schoolboy from Cramlington is heading to the school of royalty, politicians, Olympic champions and Hollywood stars.
Fifteen-year-old Adam Shewry is one of only nine students throughout the UK this year to be offered a sixth form scholarship at the world-famous Eton College in Windsor, where fees are nearly £12,000 per student per term.
The Cramlington Learning Village student was chosen after days of gruelling interviews and tests at the school which in 576 years has produced 19 Prime Ministers – including David Cameron – and educated scores of successful, influential and famous people such as Prince William, Oscar-winning actor Eddie Redmayne, adventurer Bear Grylls and gold medal rower Sir Matthew Pinsent.
"I was in a chemistry lesson and I was asked to go to reception," said Adam. "Usually you only have to go to there if it's bad news or you've done something wrong.  But I walked into the head teacher's office and there was my dad with the letter saying I'd been successful."
Adam – who last year passed his GCSE maths with an A* – only found out that Eton offered scholarships after watching a television programme.  He went with his family for a visit and was so impressed that he applied for a place, along with around 200 other students.
After receiving his personal statement, Eton invited Adam to spend four days at the school, where he sat the notoriously challenging entrance exam, and was interviewed by the head teacher as well as all the heads of department for his chosen A' Level subjects:  Maths, Further Maths, Physics, Chemistry and Economics.  When he was there, the UK ambassador to Russia and the deputy governor of the Bank of England paid visits.
"Apparently that was not unusual," said Adam who is not 16 until June.  "It's a whole world of different opportunities. There is an image that Etonians are stuck up, but I didn't meet one student like that.  They were some of the nicest kids I've ever met."
Adam's success in winning a scholarship – even before his sits most of his GCSE exams – means the majority of his costs will be paid by Eton.
"It will be tough being away from family and friends but I always intended to go away to university – it's just coming two years earlier than I thought," he said.
Adam is a gifted long-distance runner.  He is a member of Morpeth Harriers and has been selected to compete for Northumberland in the cross country race at a national schools event.
As well as his studies Adam is planning to join some of Eton's societies and pursue his enjoyment of rock climbing, cycling and swimming. He is even looking forward to wearing the school's traditional uniform of black tailcoat and pinstriped trousers.
"It will be a bit different from the uniform at Cramlington," he said. "Everybody has been so supportive here.  I couldn't have asked for more."
Cramlington Learning Village's Year 11 Learning Manager Dave Paterson said: "Throughout his time at school Adam has conducted himself impeccably, both academically and in his sport.  He's reaping the rewards for the effort and attitude he has shown.
"We say to students to aim high and see where you get.  But it just proves that if you put your mind to it you can achieve anything you want.  It's an outstanding achievement and we are all extremely proud of Adam."