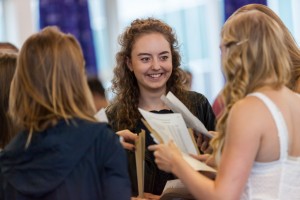 Cramlington Learning Village is celebrating its second set of record results in a week and the achievements of some of its students who have triumphed over considerable adversity.
More than three quarters of students were awarded a C grade or higher in their GCSE Maths – the school's best-ever performance – and 74% achieved a grade C or higher in English.
Overall, 64% of students received five A* to C grades – including Maths and English.  That was an increase of 6% on last year's figure and comes just a week after A-level students recorded the most successful results in the school's history.  More than half of them passed their exams with A*, A or B grades.
Head teacher Wendy Heslop said: "Students and staff have worked incredibly hard throughout the year and their efforts have been rewarded.  I am absolutely delighted with the results."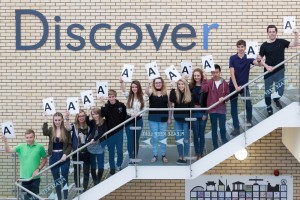 Seventeen students achieved eight A* and A grades for their GCSEs.  A further 52 were awarded five A* or As.
Dan Mattison's seven A* and an A came less than two years after he was diagnosed with leukaemia, two weeks into the start of his GCSE courses.  As a result he missed virtually all of the school year.
"I just tried to catch up when I could, really," said Dan, who will study Maths Biology, Chemistry and PE A-levels and eventually hopes to become a doctor.
"I'm still on treatment and have been all the time. The treatment's a lot easier now so I can get back to things."
He added: "The school's been great, sending work to my home when I was off and helping me to catch up when I had to miss lessons for hospital visits.  I was a little bit surprised by my results but obviously delighted."
Catriona Wilkinson, whose daughter Chloe Beaney had a heart transplant in November 2014, said: "It's been a very good day.  A day we thought we might not actually see.  We're so amazingly proud of her.  The school has been fantastic.  I just couldn't have asked for better help for her."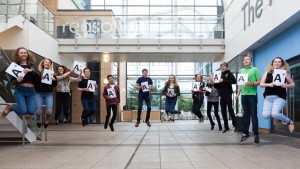 Chloe, who had to undergo chemotherapy at the age of two and developed a serious heart condition when she was 12, said: "I didn't expect what I got, so I am quite proud of myself.  The school's been so helpful with extra tuition, trying to make me comfortable with what I'm doing."
She passed all of her exams, apart from one which she will re-sit, despite missing all of the first year of her GCSE courses.
Another proud parent was Brenda Hayton, whose son Peter is visually impaired.  Peter received two A*, four As and three Bs.
"I am so proud of him," said Brenda. "He always does the best he can and deserves these results."
Like Dan Mattison, Ellie Coaker and Gemma Clark hope to pursue careers in medicine.
Ellie received eight A* and an A, while Gemma's results were six A* and two As.
"I was bit overwhelmed with my results but obviously extremely happy," said Ellie. Gemma said she was "elated with what she had done."
Whilst they are now looking forward to a further two years of studying A-levels at Cramlington Learning Village, for one student – Adam Shrewry – the visit to the school to pick up his results could be his last time there.
Adam's results of four A*, four As and a B has confirmed that he will be heading off to Eton College – one of the world's most famous schools – on a scholarship.