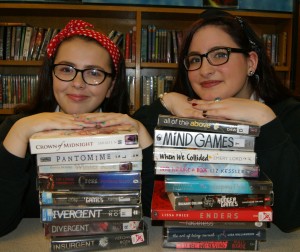 Two of our Year 9 students with a passion for literature have won a prestigious writing award.
For their poem "The Competencies of Rage", Amy Langdown and Shana Nichols were chosen ahead of 600 other talented young writers from across the North.
The Matthew Hale Award is presented in memory of a promising North East writer who tragically died young. It aims to help talented young people fulfil their potential.  One of the judges, Matthew's father, described Amy and Shana as "exceptional candidates".
They received their award during the biggest-ever Northern Writers' Awards.  It was established in 2000 by New Writing North and has become the UK's premiere talent development programme for both adult and young writers.
They are the youngest recipients of the Matthew Hale Award and met his parents Spike and Jeanne during the ceremony at Newcastle University's Great Hall.
Mr Hale said: "Amy and Shana were selected because of the vibrancy and power of their collective writing. They have a unique and strong minded view of the world and seek to reflect and challenge this through their writing.
He added: "They are both young people for whom further access to the Arts and further funding would make a significant difference to their ability to develop as writers and this, combined with their gift for expression through writing, made them exceptional candidates for the award."
Here at Cramlington Learning Village they were known to be extremely keen readers and were encouraged by their school librarian to attend the town's Cuckoo Young Writers group, where they composed their winning poem.
"The poem was entered. We didn't know anything about it. We then had an e-mail saying we'd won," said Amy. "But when we went to the awards with our parents we had no idea how fancy it really was and we were the only people who had to perform their work."
Head teacher Wendy Heslop said: "They are the best ambassadors imaginable to show the joy literature can provide.  They are so enthusiastic – as well as very creative and talented – and we are all extremely proud of their amazing achievement."
Amy and Shana say their influences are J K Rowling, Jacqueline Wilson, Suzanne Collins – writer of The Hunger Games – Roald Dahl and Shakespeare.
Despite high praise from the judges and their success, which saw them each win £250, they currently have no plans to become full-time writers.  Amy hopes to be a teacher and Shana wants to be a journalist based in mainland Europe. "I've always enjoyed writing and I also love languages and finding out about different cultures. When I came to this school I realised that I could combine both," she said.
They are, however, big fans of musical theatre – so it might be best not to rule out another successful writing team in the best traditions of Lloyd-Webber and Rice.