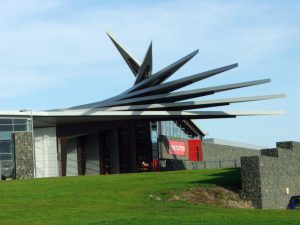 Our year 7 students took part in a powerful drama performance at the Northumberland Miners' Picnic at Woodhorn recently. The group had been involved in a major creative writing project looking at the devastating impact of the First World War on a small mining community in Ashington. The project was organised in conjunction with the Hexham Book Festival and funded by the Heritage Lottery.
Following a research visit to Woodhorn's archives to look at newspaper articles and primary sources, students worked with writers and professionals to develop their own short scripts. The scenes they created bring aspects of the mining disaster to life and demonstrate how it impacted on children especially. Their scripts were produced as podcasts and recorded by local actors and will be used as part of the permanent exhibitions at Woodhorn Museum.
Their immersive performance at the Miners' Picnic took the audience of parents and local residents through the stages of the disaster and helped them to feel what it must have been like to live in that community.  It culminated in our students laying cards of remembrance at the Woodhorn memorial in a very moving tribute to those who had lost their lives in the disaster.
Photo © Christine Westerback (cc-by-sa/2.0)