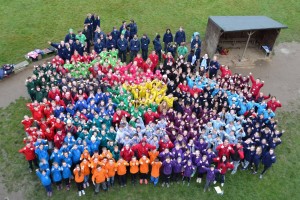 Students and staff from Cramlington Learning Village have been praised for their behaviour and organisation of a record-breaking activity weekend at Dukeshouse Wood in Northumberland.
For the 300 Year 7 students – supported by 40 teachers and support staff – it was the final stage of their transition from primary school to high school.  It was also the first time many had been away from home on their own.
The weekend was the fifth year running new starters at Cramlington Learning Village had been given the opportunity to get to better know their new classmates through working together to tackle challenges such as abseiling, archery and orienteering.
The students stayed together in their home – or tutor – groups they joined when they first went to the school seven weeks ago.  At Dukeshouse Wood, which is near Hexham, each group slept in the same dormitory, ate together, took part in activities together and also wore the same colour hoodie.
Twelve-year-old Tanisha Leckie said: "When we're working in the groups we get closer.  I didn't know some of them before but now we're really good friends." Charlotte Kell, also 12, said: "I'll be more confident speaking out in class when we get back to school."
Julie Mosley, head teacher of Cramlington Junior Learning Village, said: "Their home group is like a family unit. They might be terrified of heights on the Zip Wire but the support from other members of their group keeps them going.  "Throughout their time at school we encourage them to be better than they ever thought possible."
At the heart of school life – at Cramlington or during stays or visits – the students are encouraged to develop behaviours which help them become successful learners. These are known as the Five Rs + 1: reflective, responsible, resourceful, reasoning, resilient and respect.
Education visits co-ordinator and PE teacher Paul Steanson has led five Year 7 trips to Dukeshouse Wood. "We started with 200 and have gradually grown," he said. "It's not compulsory so we're delighted that so many have decided to come."
The school helps some families pay for the visit and only 53 students decided not to go. "Next year we're hoping that all 350 Year 7s will come.  This is like moving the whole junior school en masse with all the support that entails." Year 8 students, who took part last year, volunteered to help this time.
Chief instructor Katie Moorhouse said Cramlington Learning Village brings one of the biggest groups to Dukeshouse Wood.  "I look forward to them coming every year.  It's so well organised – like a military plan – and we know there are not going to be any issues with bad behaviour.  I also love their team hoodies."
Student Rubens Harbottle, 11, said: "I was a bit nervous about the 3G swing, but if you think of it as fun it will be fun.  This is better than being in class – no offence to the teachers."
After a long shower and an even longer reunion with their mobile phones, televisions and game consoles, the students were back at school on Monday morning writing about their experiences in their literacy lessons.