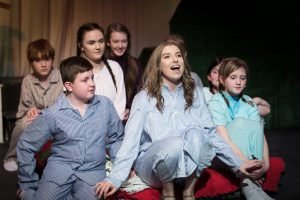 Back in September Music & Theatre Productions accepted an incredible 100+ students for Once upon a Disney which showcased the Music & Drama Departments outstanding talent.  This year the JLV was brought to life with The Sound of Music from the 21st – 23rd of March.  In October the auditions took place for the March show and we were lucky to accept all 55 auditionees to be part of our most challenging musical to date.
It has been a tough sixth months, bouts of illness with the cast plus tiring rehearsals, meant that our wonderful students were not only pushed to their max but also presented unwavering levels of commitment.
"I was blown away by the Sound of Music last night; I thought it was an absolute triumph…Please congratulate all involved." Mrs Heslop – Headteacher
The set was one of our biggest challenges but thanks to some creative vision, the assembly skills of Mr Milloy (and his Grandad!) plus the painting services of Robbie Houghton, Callum Picton, Amy Langdown, Mrs Sutton and I, the Von Trapp Villa, Nonburg Abbey & Austrian Hills, truly started to take shape!  Add to this the complex costumes and many hours of stitching Lederhosen and scenic screens, it was evident that The Sound of Music was also a more challenging musical to take on from a production perspective too.
"Show was amazing, well done to all of you!" – Parent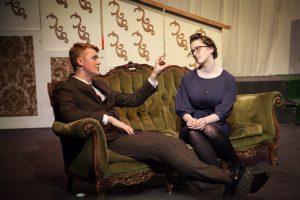 Our leading cast was an absolute triumph this year, with Sophie Butler as the lead of Maria; taking to the stage with flair and finesse.  Joined by Cameron Swan, as the ever stern and eventually heart-warming Captain, they celebrated their last year of Music & Theatre Productions before flying the nest for University (along with Ryan Clark and Abigail Simpson).  Comic relief was provided by the frequent flamboyant entrances of Max (Luke Davies) and the sashaying sophisticated personality of Elsa (Rhiannon Shieber), whilst not a dry eye in the house could be seen for Mother Abbess' (Charlotte Small) closing to Act 1 of Climb Every Mountain.  One of our favourite aspects of the show was certainly the casting of the children!  Each and every one of them worked tirelessly over the past few months to harmonise, march and develop their on-stage chemistry…we couldn't be prouder of them all!
 "I try to come to all productions and always love them but this one just blew my mind it was so line and tune perfect. The actors and musicians were fantastic and I know all the parents around me were so impressed by the performance." Phyl Gordon – School Governor
Some of the unsung heroes of the show will always be the chorus!  This year was no exception as our wonderful chorus ranged from Nuns to Nazis, Goatherders to Concert performers.  Multi-role can be pretty tough and these guys never wavered in focus and sheer commitment to the whole process of putting on a fantastic show.  This amount of students on stage proved a big technical challenge with drop mics, 11 head mics and cables running up and down the hub.  With the help of a specialist, Mr Milloy took to this challenge with Ms Dennis to produce technical wizardry of sound and lighting!
 "Just when CLV Drama & Music Dept blew us awat with the show last year, they only go and completely knock it out of the park with a flawless Sound of Music…Utterly floored by the music, singing and acting…" Mr Martin – Media Teacher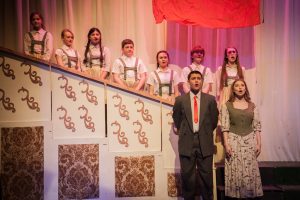 One of the greatest triumphs this year was the incredibly talented and outstanding efforts of the Show band.  Comprising of Jason Ying, Hazel McGregor, Molly Howes, Kay Watson and Matthew Wade with the assistance of Mrs Glanville, Mrs Stringer and the careful Musical Direction of Miss Watson, the band accomplished the most complex score of music ever attempted.  Ranging from Year 7-13 it is amazing to think what artistic musicians we have her in the Music Department.
 "Thanks once again for the annual reminder of how fantastic a place a school can be.  The Sound of Music was incredible!" Miss Williams – English Teacher
So that's another year down and another show given true just thanks to the amazing skills of our Music & Theatre Productions.  As staff we cannot express enough how much of a pleasure it is to work alongside these young individuals each year and even though our standards are high, they never cease to amaze us in what they achieve!