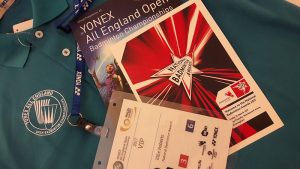 Cramlington sixth former Ellie Roberts, was one of only three people shortlisted for 'Volunteer of the Year' at the National Badminton Awards which took place earlier this month. Ellie was nominated by the Northumberland County Badminton Association for her volunteering and coaching work she has undertaken over the last 2 years.
Every Friday and Sunday Ellie coaches the U11, U13, U15 Northumberland Badminton Squads and she also managed the U13, U15 and U17 teams at large tournaments. She is currently taking her Level 2 Coaching Qualification which will allow her to contribute more and "give back to the county that has given me so much over the last 10 years". She has also just been asked to be the Assistant Manager of the U18 Squad for the the Inter County Championships.
The Award Ceremony was held in Birmingham at the Barclaycard Arena in The Foundry and presented by Sky Presenters David Garrido and Hayley McQueen. Ellie was runner up in her category, only missing out to another amazing volunteer who had taken part at the London and Rio Olympics and the Glasgow Commonwealth Games. Ellie commented that "it was amazing to be shortlisted with someone who has done all of those things in badminton."
She also receive high praise from Badminton England, "After the awards were finished the Chief of Directors and the Chairman of Badminton England came and told me how impressed they were with the amount of volunteering I have done over the last 2 years, given that I am only 18."
After the awards the nominees were taken to the VIP Area in the Arena to watch the Quarter Finals of the YONEX All England Open Badminton Championships 2017 which were taking place that week. "I saw some amazing games of badminton and got to meet great players,  such as Nathan Robertson from England (pictured right), a Silver medallist at the Athens Olympics in 2002 in the Mixed Doubles with Gail Emms, and Prakash Padukone from India, a former world number one in 1980 and Gold medallist at the World Cup in Kuala Lumpur 1981, as well as winning many other titles."
"It was a great experience and I can't believe I was nominated in the same category as the people who were there. I got to see some amazing people being recognised for the work they have done for this sport."
Well done Ellie, we are all extremely proud of you.